Khabasha Cats
Champion Linczozo Deaconblue

, 23c (Fergus)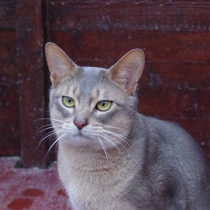 Fergus is the elder of my two stud cats. He is the son of GrCh Surfin Summer Sky and IGrCh Brunnbacken's Leon and was born on January 14 2013.

I am sincerely thankful to Morna Lincoln for allowing this lovely boy to come to Scotland. He is a very friendly and cuddly boy with an outgoing and playful personality and is already the father of many fine kittens including Ch Khabasha Na'adezhda.


Grand Champion Pontaby Romeo

, 23a (Romeo)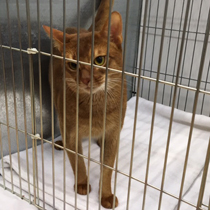 Romeo is still considered the 'young boy' on the block, though he's been here for a good while now and well settled. He is the son of the eminent UK and IGrCh One Shot from A'far and Ch Syrinx Julietta and was born on April 21 2015. I am very grateful to Maureen and Lorraine Pontello for entrusting such a promising boy to me.

He is a fine big lad who has already gained his Champion Title and has also already sired some fine kittens including Khabasha Tahirah and Pontaby Cadenza as well as demonstrating his father's good nature to all the humans he meets.


Champion Khabasha Jahazharah

, 23 (Aoife)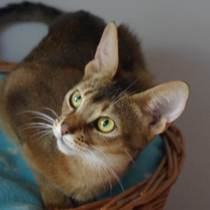 Aoife is the home-bred daughter of my now retired girl Nishalka Carlotta and my first stud GrCh Pontaby Alessandro.

She was born on February 28 2014 and after quickly gaining her Champion title has settled with enormous enthusiasm to the life of a breeding queen.


Champion Khabasha Na'adezhda

, 23c (Bronwen)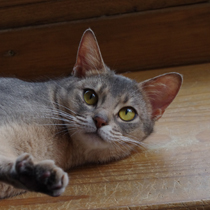 Bronwen is my homebred girl from my own now retired Ch Khabasha Darakhshaan and my blue boy Ch Linczozo Deacon Blue.

She was born on October 17 2014 and celebrated becoming a Champion at the beginning of April 2016 by being allowed to visit Ch Pontaby Romeo resulting in a fine first litter of kittens in the middle of June.


Champion Pontaby Cadenza

, 23a (Eithne – say Enya)
My lovely sorrel girl, once again most kindly entrusted to me by Maureen and Lorraine Pontello. She is the daughter of GrCh Pontaby Fortuna and GrCh Pontaby Romeo and was born on March 29 2016.

She is a pretty little girl, on the shy side at present but, secretly, possessing a temper to match her fine sorrel hair colour.


Koperkat Luca Quinn

, 23c (Nuala)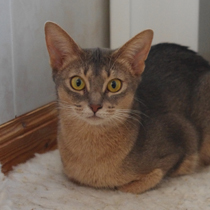 This beautiful blue girl, kindly allowed to come to Scotland by Shirley Evans at Koperkat Abyssinians.

Nuala has recently had her first litter, 3 blues, to the lovely Fergus and has proven to be a great first-time mother.


Khabasha Xena Xiomara

, 23 (Ailish)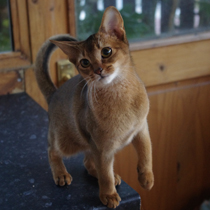 The baby of the house, lovely usual girl who is the daughter of Eithne and Fergus.

She is a pretty girl, and very affectionate.